Brian Oglesbee
Although he has worked for many years as a commercial photographer, Brian Oglesbee is perhaps best known for his international reputation as a fine-art photographer. His photographs have been exhibited in galleries and museums from New York to Atlanta to California, as well as in France, Germany and Japan—just to name a few. His prints are also in the collections of some of the world's most prestigious photo museums, including: the International Center of Photography in New York, the International Museum of Photography at the George Eastman House, the Musée de l'Elysée, Lausanne, Switzerland, the Brooklyn Museum, New York, the Museum of Fine Arts in Houston and the Museum of Fine Arts St. Petersburg, Florida. His prints are also collected by many private collectors, among them (can you dig this?), Sir Elton John.
One of Oglesbee's most ambitious and critically-acclaimed projects is a series of portraits of human figures shot underwater, known as the Water Series. Those images, shot in his upstate New York studio (an old dance hall built in 1867), became the subject of his critically-acclaimed book Aquatique (Insight Editions; 2007). And while they may look highly manipulated, what you see in those photographs is precisely what the camera saw—and only what the camera saw.
It was those photos that caught the interest of the art world in China and last year he was invited to have a major one-man exhibition in the city of Haining, China, as a part of a prestigious annual cultural festival. "I was invited to have this show because in Haining they have an annual water festival called the International Qiantang River Tidal Bore Watching Festival. There is a tidal wave that comes in every year in September in confluence with the full moon and the tides and the festival coincides with this event," says Oglesbee.
The exhibition was hung in a building which had been a Ming Dynasty academy in Haining and later traveled to two other venues in China. "Forty of the images are from my Water Series and the other 10 were from the Water-Colors series that are color images with no figures," he says. Oglesbee was invited to China for the opening of the exhibition and to lecture about his work.
Though he could have printed the images for the show (0which were shot on large-format negative film) as traditional silver-gelatin prints, Oglesbee chose instead to print them digitally using an Epson Stylus Pro 7900 large-format printer. I recently had the chance to talk with him about why he made the choice to print digitally, his thoughts on digital printing and Epson printers and his recent upgrade to an Epson SureColor P9000 printer.
Snapshot:
Product name: Epson SureColor P9000
Inking: Epson UltraChrome HDX pigment inks, 11-ink, 10-color
Resolution: 2880 x 1440 dpi; 1440 x 1440 dpi; 1440 x 720 dpi;
720 x 720 dpi; 720 x 360 dpi (resolution varies by media type)
Dimensions: 74" (L) x 24" (D) x 48" (H)
Weight: 298 lbs (135 kg)
Printing times: 16" x 20" prints from 2:02 to 6:58; 20" x 30" prints from 3:40 to 12:25; 40" x 60" prints from 11:15 to 40:05
Fade Resistance / Print Longevity: Color, up to 200 years; B&W, up to 400 years
Full specs: Specifications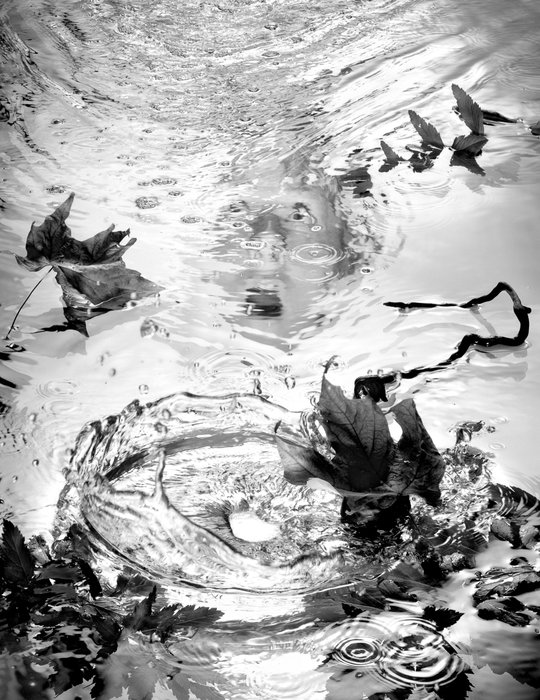 ST: Why did you make all of these prints for this exhibit digitally rather than sending traditional silver prints?
BO: I didn't have to make them digitally since I had all of the black and white images printed already as silver prints, though the color prints were ink jet. But here's the truth, I like digital prints better. They are better than silver prints. There are a couple of reasons for that. For one, there is no enlarging lens that wreaks havoc on the image as it's being projected. When you enlarge a negative there is fall off at the corners because the projected image is brighter in the center, so the print is darker at the center than it is at the edges. In order to make the whole print evenly illuminated, you have to burn it in at the corners. You don't have to do that with a digital print.
Also there is no degradation from the enlarger lens caused by running the picture through an optical system again. The negative is being scanned, so there is an optical translation that is happening there, but it seems less destructive of the image than an enlarger lens. If you compare two prints, one digital and one silver, you'll see that the image is much sharper across the whole print.
An even bigger issue is that anyone who goes back to the antebellum days of working in a traditional darkroom, as you and I do Jeff, you can't get everything that is on a negative in the final print. You just can't do it. The panchromatic film emulsion is far more sensitive to changes in tones than the orthochromatic print emulsion is. But with digital you can get everything that is on the negative in the print. I'm a huge advocate of printing negatives digitally. The prints are superior.
ST: What printer did you use to make the prints that were exhibited in China?
BO: I used an Epson Stylus Pro 7900 large-format color inkjet printer, which is a 24-inch wide printer. The prints in the show are all 24x30-inches.
ST: How long did it take you to make 50 prints of that size?
BO: I started scanning the negatives at the end of May of 2015; they wanted to receive the prints a month before the show opened so they had time to frame and hang them. The show opened on the 25th of September, which meant that I printed for June and July and part of August. But I also had to scan all of the negatives first and the negatives had to be processed. I shot all of the negatives for the Water Series on Polaroid P/N film. The series started in the early 1990s and the last image that I shot for the series was in 2008. So most of the images were made before digital was even an option for anything serious. The Water-Colors series were shot on color transparency film.
ST: How many exhibition-grade prints can you turn out in an average day?
BO: I can turn out maybe three or four before I lose my critical eye and I can't make accurate judgements anymore.
ST: Was the 7900 your first wide-format digital printer and what were some of the things that you liked about that printer?
BO: Yes, it was my first wide-format digital printer and, for me, I think it marked the time when I thought that digital printers had gotten to the point that they were worth going into seriously. Maybe I was a little late getting there, I don't know, but I think the specs on that printer were such that they finally caught up to and even surpassed wet darkroom prints.
I watched a few of generations of printers go by which had increasingly refined ink sets and when they got to the 7900, Epson introduced the UltraChrome HDR inks. The archival quality of those inks actually surpassed anything that was being done with chromogenic printing and the fidelity of the colors and the resolution of the details was such that you can't tell when you're looking at a finely-made digital print or a traditionally printed photograph.
The printers also had increased resolution by this point. My work is all about fine detail, so the printing method has to do two things: it has to reproduce all of the detail, so that the image looks like what was in front of the camera. And also the prints have to have longevity to them.
ST: Did you test various papers and what did you settle on?
BO: When I first got the printer I tested papers extensively and I kept coming back to the paper that was recommended to me by photographer Jay Maisel who was printing on the same printer, but a larger size, the Epson 9900. He was using Hot Press Bright, which is an Epson paper, a matte rag paper, which has an optical brightener in it so that you get a real white background. I like to use matte papers for big prints because you don't get reflections of the lights in the room.
ST: Do you have to do anything special in scanning the negatives for printing exhibition prints?
BO: The scanning is very important and I did all of the scanning myself. I did some research and having the scans made commercially was very expensive. At some places in New York it was like $200-250 for a good scan of a 4x5-inch image. Even if you had it done "cheaply" it was $50 a pop. Then I learned about the Epson V750 Pro that is a flatbed scanner that has a wet-scanning attachment. Using that scanner I have made scans that are better than any of the ones that I was paying for. You float the negative in a solution so that there are no air bubbles and it's completely flat against the platen. If you're shooting digitally, of course, that's moot, but if you're printing from film you have to digitize them first.
ST: You've since upgraded from the 7900 printer to the P9000, why did you change printers?
BO: The main reason that I switched is that the P9000 uses the new Epson UltraChrome HDX inks which are said to have significantly increased longevity over those prints made from the 7900. For anyone that is doing fine-art printing, it is of paramount importance that your prints will last the longest possible time. People have asked me, even other professionals, what difference does it make if a prints lasts 200 years or 100 years—you're not going to be around anyway.
My counter to that is that let's say that you're a collector or a curator at a museum, you want your collection to have lasting value. The prints don't cost any more to make on either printer since the cost of materials is the basically the same. So which would you put your money into? Which would print you buy? Are you going to buy the one that will last 100 years or the one that will last 200 years? You're going to buy the one with the longer life.
ST: Have you done much printing with the P9000?
BO: Yes, I have done a lot of testing with it and to be honest, at first I had a lot of trouble. The reason was because I learned a certain way of printing through the 7900, so I had files that were adjusted to make what I thought were the best prints that I could make on that particular printer. But when I ran some of those files through the P9000 I got radically different results. The prints were disappointing, they were very dark, the color was way off and it was pretty daunting for a while.
No one seemed to be able to figure it out, but I finally figured it out. The problem was that in the print dialogue box, you have to let the printer manage the color. In the past, I was letting Photoshop manage the color and I was using Photoshop profiles, etc. Everything was fine that way with the 7900.
But when the P9000 came out, I could not make the images work no matter what I did. The images I was seeing on my calibrated graphics monitor were not anything like the prints that were coming out of the printer. Once I switched to letting the printer manage the colors I no longer had the problems. Happily, now I have to do less to prepare them to print on the new printer than I did on the 7900. The color is very accurate right from shooting digitally through printing.

ST: You've said to me in the past that you're not really a tech head and that you go more by instinct. How does this apply to printing and how do you evaluate print quality?
BO: For me, it's what is in front of the camera that is important. What I'm asking of the camera and all that comes after it is to reproduce what's in front of the camera because I don't manipulate my images after that. I spend most of my time working in front of the camera and then after that I just want the process to be quick and easy and faithful.
It really just comes down to what it looks like. It's kind of like working in a darkroom, you make a test strip and you try to pick out what you think is going to be the best exposure and has that best contrast response to the paper, etc. It's really exactly the same: does is look right? As I said, I have not had to make any adjustments to the colors since I started letting Epson control that.
ST: What will you be printing with the P9000 going forward?
BO: I'll be working with a new series of Figure/Foliage images that I've been working on recently. It's an outgrowth of the Water Series but it's in color and I'm still using human figures but they are combined with natural elements in the form of foliage and plants, rather than water. I'm still editing the proof prints and I'm getting ready to make a final group of prints. I showed samples of the new work to other artists in China when I was there and it seemed to really resonate with them.
ST: You're going back to China this autumn, what will you do there?
BO: I am going for most of October and part of November and I'll be teaching in the art department at the Wuhan University of Technology. I'll have 20 graduate students for a five-week class and it's up to me what I do with them. I gave five lectures when I was there the last time. I lectured at two different universities and also to a number of groups of artists and photographers. The students were very eager and very enthusiastic and it was great. I know it's really going to be interesting.
New Product News:
Nikon D3400 Entry-Level DSLR. Nikon has introduced a new entry-level DSLR, the Nikon D3400 (an update of their popular D3300). The compact camera features a high-resolution 24.2-megapixel CMOS sensor and is equipped with Nikon's SnapBridge1 technology which provides a quick and easy method for sharing your photos instantly to any compatible smart device. The camera also has Nikon's Guide Mode, which provides step-by-step assistance when adjusting camera settings to help you learn how to capture the best photos (and I've always felt the best camera manual is one that's built into the camera). The camera will be offered as a package as kit with the AF-P DX NIKKOR 18-55mm f/3.5-5.6G VR or the AF-P DX NIKKOR 18-55mm f/3.5-5.6G lenses.

0 Comments
---