I've Just Seen a Face
I've just seen a face,
I can't forget the time or place
Where we just met.
She's just the girl for me
And I want all the world to see
We've met, mm-mm-mm-m'mm-mm
Had it been another day
I might have looked the other way
And I'd have never been aware.
But as it is I'll dream of her
Tonight, di-di-di-di'n'di.
—Lennon/McCartney
In Brief: Studio testing the new Sony FE 100mm F2.8 STF GM OSS and the FE 85mm F1.8 Lenses

One of the most impressive features of the Sony 100mm F2.8 STF GM OSS is that it creates a beautiful quality bokeh. You can see many of the highlight areas are perfectly round, thanks in large part to the shape of the 11-blade aperture. A special "apodization" filtering system (see text) built into the lens' design also improves the bokeh quality. Exposure was 1/80 second at f/5.6, IS0 1000. I stopped down a few stops just to be sure that her face and headdress would be in equally sharp focus.
Snapshot:
Name: Sony 100mm F2.8 STF GM OSS
Mount: Sony E-mount
Format: Full Frame or APS-C (35mm equivalent: 150mm)
Maximum aperture: f/2.8 (T5.6)
Minimum aperture: f/20 (T22)
Angle of View (full frame): 24 °
Angle of View (APS-C): 16°
Filter Diameter: 72mm
Weight: 24.7 oz (700 g)
Full Specs: Here
Name: Sony FE 85mm F1.8
Mount: Sony E-mount
Format: Full Frame or APS-C (35mm equivalent: 127.5mm)
Maximum aperture: f/1.8
Minimum aperture: f/22
Angle of View (35 mm): 29°
Angle of View (APS-C): 19°
Filter Diameter: 67mm
Weight: 13.1 oz (371 g)
Full specs: Here

The Sony 100mm F2.8 STF GM OSS is just a beautiful lens for a head-and-shoulders bridal portrait. The primary light in this shot came from a very large softbox above and to the left of the model (my right). The flowers on the left were place there intentionally to provide a nice out-of-focus contrast to the crisp focus on her eyes and face. I used the Sony Eye AF feature on the aR7 II body to focus precisely on her eyes. The exposure here was 1/125 second at f/6.3, ISO 1000.

It's kind of hard not to get a great shot when you have such beautiful models and great costumes to work with. I shot this with the FE 100 F.28 G Master lens using one large softbox to my left just a few feet from (and slightly in front of) the model. Exposure was 1/125 second at f/6.3, ISO 800.

Three Ways to a Photographer's Heart
If there is anything that's certain to turn any photographer's head in a big way, it's offering them the chance to photograph great models in a beautiful studio with a pair of brand new pre-release lenses. That is exactly the opportunity Sony provided last Wednesday for a small group of photographers and photo-industry writers as they introduced two brand new prime lenses: the Sony FE 100mm F2.8 STF GM OSS and the Sony FE 100mm f/2.8 at a very fun and hands-on press event in New York City .
With the promise of being the first group of photo press members to test the lenses in an actual shooting situation, about a dozen of us were invited to Shop Studios, a gorgeous space on West 39th Street, for an afternoon of photography. After all, who needs a press release when you have the real thing in your hands? Following a brief slide show and talk about the new glass, each of us was given a Sony α7R II body and samples of the just-announced lenses and set free in the studio. I didn't actually count, but I think there were a half dozen different large sets scattered around the room, with a rotating group of models in various costumes and outfits.

This is the only pairing of two models that I shot all day--I wish I had shot more. Shot with the FE 100 F2.8 lens and exposed at 1/80 second at f/5.6, ISO 1000.
Designed to show off the lens' best qualities (like the superb bokeh produced by the FE 100mm F2.8 STF GM OSS 100mm lens), each set was decorated with foregrounds and backgrounds that provided both interesting technical challenges and a very aesthetically-pleasing setting. Reflective objects and strands of tiny fairy lights were placed at various distances to provide good opportunities for experimenting with things like defocus and bokeh. To keep us all on track, lighting assistants and Sony tech reps were also provided to get the most out of each opportunity. All-in-all, a pretty invigorating and nicely-planned afternoon. In about two hours of shooting I shot more than 30 gigs of images—fun!

This is one of my favorite shots from the day. One of the very helpful Sony reps helped direct the model in showing the henna designs on her hands. To accent the designs I used the FE 100mm f/2.8 lens' close-up feature to move in close and restrict focus to her hand and let her face fall gently out of focus. Exposure was 1/60 second at f/5.6, ISO 1000.
But let's take a look at what Sony was introducing:
Sony FE 100mm F2.8 STF GM OSS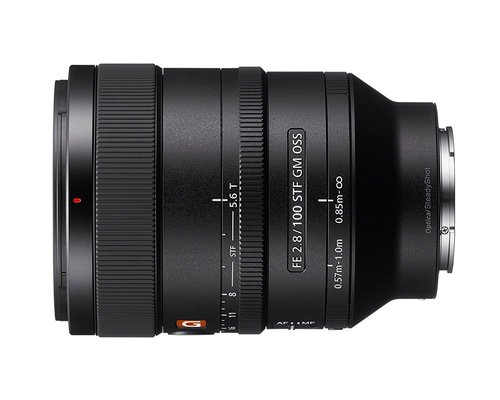 The Sony FE 100mm F2.8 STF GM OSS lens. Look carefully and you'll see that starting at f/8 the apertures are denoted at T-stops, as opposed to f/stops. I found a really great video on Youtube that explains the difference and it's worth a watch: Here. In short, f/stops represent the ratio of the phyisical size of the aperture the focal length of the lens (focal length divided by aperture diameter), while T-stops are an accurate measure of the amount of light actually transmitted by that particular aperture.
Designed with demanding portrait shooters in mind, the 100mm G Master lens (which I think is the fourth entry in this high-end lens series) is the perfect focal length for head/shoulder and face shots—particularly with FX bodies. The optical design of the lens includes spherical aberration compensation, ED (Extra-low Dispersion) glass, and aspherical elements, providing the extreme resolution and sharpness that is the hallmark of the G Master lenses.
The lens is designed to provide a combination of both stellar resolution and near-perfect bokeh. Because bokeh is a top consideration for most portrait shooters, in the studio and outdoors, as well as in macro shooting, Sony created a somewhat radical design to provide what it calls "unbeatable" bokeh qualities. In order to achieve this the lens features a unique optical apodization (APD) element—an extra optical that is a special type of filter that exhibits gradually decreasing light transmission towards its periphery. In essence that element acts as a graduated neutral-density filter for out-of-focus highlight areas, making them brighter at the center and gradually fading to dark at their outer periphery.

The background highlights in this shot made with the FE 100mm F2.8 lens are perfectly round, thanks again to the 11-blade round aperture of the lens and the use of an apodization filter. Pink braids, beautiful tattoos, a gorgeous model--what more could a photographer ask for? Shot at 1/100 second at f/5.6, ISO 1000.
According to Sony the apodizatin (or APD) element element, "…attenuates the edges of point images, resulting in exceptionally smooth, beautiful bokeh in both background and foreground areas with an absolute minimum of double-edge effects." You can watch this nice little video to understand this optical concept a bit more. An 11-blade circular aperture also helps to smooth bokeh in both still and video settings.
In addition to the smoothness of the bokeh, the optics have been designed to minimize vignetting and to assure that point light sources are reproduced with consistently circular bokeh throughout the image—keeping highlights nice and round whether coming from highlights in a studio set (as you'll see in some of my shots here) or from things like sun glinting off of rose petals or the surface water ripple, for example.

Here's a another shot made using the stronger of the two macro positions on the FE 100mm F2.8 lens. I really had to work close to the model's face to get the shot, but I just love her expression and the beautiful bokeh in the background. I shot this at 1/60 second at f/5.6, but wish I had had the time to experiment more and go a bit wider with the aperture to see how it affected the background.
Interestingly, the lens also has a two-position macro mode that you enter by turning a small ring on the lens barrel. This mode provides a minimum focusing distance of 2.79 ft/0.85 m (in the "0.85 m–∞" position) and 1.87 ft/0.57 m (in the "0.57 m–1.0 m" position). It was kind of fun (and probably a bit startling to the models) to switch into this close mode and then tell the models that I was going to move in very tight on them. It has to be a little bit of an odd experience for models to suddenly have the lens less than two feet away from their face, but what a joy it is to be able to work so tightly—it really opens a whole new aspect of portrait shooting. In outdoor nature work the combination of great sharpness combined with pleasing defocused areas and a close-focusing distance offers a great potential for interesting macro shots and I hope I get to try the lens outdoors later this summer. The FE 100mm F2.8 STF GM OSS lens is on Amazon for pre-order for $1498.
Sony FE 85mm F1.8



The Sony FE 85mm F1.8 lens.
The other lens unveiled at the event was the FE 85mm F1.8, an affordably priced and lightweight (13.1 oz/371 g) lens that works with both full-frame and APS-C bodies. This was actually the first of the two lenses I shot with and it worked nicely composing both head shots and wider three-quarter shots of the models. The lens uses ED glass elements for excellent sharpness and has a 9-blade circular aperture and creates, based on what I saw, great sharpness and quite an excellent bokeh.

The lighting set ups were designed to demonstrate just how nice the defocus and bokeh were both in front of and behind the subjects. For this shot a strand of small holiday lights were placed in front of the model and, as you can see, turned into nice diffuse patches of light. Again, I used the Eye AF feature to focus just on her eyes. Exposure with the FE 85mm f/1.8 lens was 1/100 second at f/2, ISO 250.
The lens (like the 100mm) has a direct AF/MF switch right on the lens barrel, so it's easy to switch from autofocus to manual without looking. Also, the lens has a focus-hold button and I got a crash course in using it during the event. What I found really cool is that you can combine using Sony's Face Detection technology and Eye AF focusing system to find the face, focus on the eye and then hold that point of focus. In practice this meant that I could shoot through the beaded curtains and flower arrangements that were part of some of the sets and grab focus quickly on the models' faces and then lock focus on their eyes.

Here's another example of using a close foreground and some glittery objects in the background to make the sharpness on the face really pop. The models at this shoot were just perfect, total professionals, and really seemed to have a great instinct for both the presence of the light and understanding the shots that the photographers were after. Shot with the 85mm f/1.8 lens, exposed at 1/100 second at f/2, ISO 125. I kept the lens almost fully opened to restrict focus to just the face.
Of course, coordinating the focus lock with the Face Detection and the Eye AF takes a few minutes to get used to (alright, it took me longer that a few minutes probably) but it really does work incredibly well. Once the a7R ii picks up the eye, a green box lights up to show you the exact point of focus and with that locked down you know exactly where you'll be setting your point of prime focus. Awesome technology. Nice too, you can customize the focus-hold button to control a number of other functions including: Eye AF, AF On, Aperture Preview, Shot Result Preview or Bright Monitoring.
Also, for video shooters, it's interesting to note that only the middle groups of the optical system move to achieve focus, so that not only is focusing fast and quiet, but the overall length of the lens does not change when focusing.
And a New Flash: HVL-F45RM


The Sony HVL-F45RM flash.

Though I didn't get time to experiment with it much, Sony also introduced their new wireless HVL-F45RM flash unit during the event. For a very small flash it has pretty interesting capabilities. For instance, it can be used as either commander or receiver and as a command unit it will connect up to 15 units of compatible flashes or receivers in up to five groups. The coverage is up to 98.4 feet so you can work in a very large area. The radio signals work in bright light, around obstacles, and even when they are installed behind the camera. The flash head can rotate 360-degrees and it can tilt 150-degrees upward and 8-degrees downward. The rotation of the flash means that you can still shoot bounce flash with the camera in the vertical position.
You can read more about the flash (and view a guide-number chart): Here.
Conclusion:
The whole day in New York, from the studio shoot to a camera-in-hand dinner on a rooftop restaurant later, was such a blast that it's kind of hard to separate the fun from the testing, but in the end it came down to the pictures. The two lenses are, of course, pretty close in focal length, but they are really aimed at two different budgets and sets of demands. For the consumer, I think that the 85mm F1.8 lens is a fast and sharp lens at a very reasonable price—under $600 which is about a third of the price of their slightly faster high-end Sony FE 85mm f/1.4 GM Lens ($1798).
For serious consumers or pros for whom ultimate sharpness and beautiful bokeh are essential, the 100mm lens is just plain stellar. The lens is speedy to focus, exceedingly sharp and the bokeh is what Sony claims it to be—unbeatable. Also, the stabilization was remarkable, especially combined with the a7R II's five-axis stabilization. When I first began shooting in the studio I had the ISO set at 100 and so some of my shutter speeds were very slow (1/15 second) and yet the images were amazingly sharp. The combination of in-lens stabilization and the body stabilization is remarkable.
Given a choice between the two lenses, I think I'd easily choose the 100mm largely because of it's many unique features—the macro mode, the APD element and the sharpness/bokeh combination. But truth be told, both lenses did an excellent job with the portraits that I shot.

The folks at Sony were kind enough to take all of the journalists at this press event to a nice dinner at a rooftop restaurant on 35th Street in Manhattan, right under the Empire State Building--and let us take cameras and lenses to the dinner! I shot everything from the table decorations to the artsy ceiling lights and, of course, the Empire State Building--funny, I didn't even notice it towering over me until it was pointed out to me and I turned around. All three of these shots were made at the same exposure: 1/25 second at f/5.6, ISO 4000.
New Product News

Westcott Omega Reflector 360. If you're looking for a very flexible reflector, the Omega Reflector 360 from Westcott provides a lot of different possibilities in a single reflector. It is, says, Westcott, the world's first 15-in-1 reflector. The Omega 360 can used as a traditional 40" reflector, a traditional 13" reflector, or a 40" shoot-through reflector and has a total of five fabric options for each, including: white, silver, sunlight, black, and 1-stop diffusion fabrics. The round center of the reflectors are removable center discs (a kind of reflector-within-a-reflector) and these 13" pop-out mini reflectors detach instantly (via Velcro) to create a shoot-through design. The reflector collapses down to 1/3 open size and comes with a deluxe shoulder case for effortless travel and storage.
Baseball Hat for GoPro Hero 5/4/3+/3/2/1. Here's something I bet you never thought you'd be putting on your accessories wish list: a hat to hold your camera. But if you're a GoPro user, this is actually a brilliant idea! You certainly don't need a helmet to chase the kids around at the beach or sledding down the local hill, but it's still nice to have that head-mounted camera handy so that your hands remain free. The hat, says the maker, retains its shape no matter how many times you wash it and you can use it with most versions of GoPro cameras. Just think how thrilled your golf buddies will be as you follow along behind to capture their every lousy shot! And hey, one size fits all and it's under $15, a bargain in photo accessories!
Fujifilm MK 18-55mm T2.9 and 50-135mm T2.9 cinema lenses. Fujifilm has announced a new MK Series of cinema lenses for Sony E-mount camera bodies. The first in this series (available in early March) is the FUJINON MK18-55mm T2.9 with a list price of $3,799. The next in the series will be the FUJINON MK50-135mm T2.9, available this summer (though no price has been announced for that lens). The two lenses offer a combined focal length range of 18mm-135mm in the Super 35mm format and together the lenses cover the most frequently used range used by emerging cinematographers. The lenses provide a very T2.9 speed across the entire zoom range, enabling a shallow depth-of-field. Available first in E-mount versions, which are designed for Super 35 or APS-C sensors, but will later be available for FX (full-frame) mounts.

9 Comments
---