For the latest edition of MAP's Master Series sponsored by Panasonic, 
photographer and director 
Michael Grecco  talked with writer and photographer Jeff Wignall  recently about his transition from journalism to celebrity photography and advertising, about his dramatic lighting style and about his evolution from still shooter to successful motion-picture director. 
Today marks the release date of Grecco's ambitious new 4K film Forever Young, which he created for Panasonic.
Grecco's interest in photography began when he was very young. "As a kid I stole the Time/Life books out of the public library near my house in the suburbs north of New York City and would be up all night looking at Penn, Avedon and Bruce Davidson," he recalls. "As a teenager I went into the city all the time to listen to music and look at art. The International Center of Photography and MoMA were my favorite places."
His interest led him to study film and photography at Boston University (he has a degree in broadcasting and film), which is where his career actually began. "I took a photo class at BU and thought it was very exciting, that it was a good way to experience the world from a position of responsibility," he says. "But this decision was based on the excitement of the life, not based on my artistic goals, so ultimately I had to go in another direction."
It was during his time at BU, however, that he started interning for the Associated Press. "My specialty was news coverage. I figured that was the most exciting thing I could do in a career that was already exciting. I was an adrenalin junky at the time," he says. "I wanted the experience of being a full-time shooter at a newspaper, so I applied to the Boston Herald and was hired."
While extremely successful in his photojournalism career, Grecco's more creative ambitions won out. Eventually those aspirations led him to celebrity shooting, notably for People magazine. His conceptually dramatic portraits have also been used as covers of magazines like Time, Wired, Newsweek, Vanity Fair, Rolling Stone and Esquire. The celebrities he's photographed include a who's who of Hollywood's elite, including Will Ferrell, Kirstie Alley, Steve Martin, Mel Brooks, Martin Scorsese, Hugh Hefner, Robert Duvall, Chelsea Handler and a long red-carpet list of other famous names. Grecco is also a highly sought-after commercial shooter; his clients include Apple, Pfizer, Yahoo!, IBM, HBO, Paramount, Sony and the Walt Disney Company.
Most recently, Grecco's career morphed again when he began directing motion projects. As you'll learn in the interview below, he now splits his time between his ambitious still shoots and an expanding catalog of motion projects.
__________________________________________________________________________________________________________________
            Above: Michael Grecco at work                                

MAP: How did you transition from the journalistic and editorial work at the start of your career to the more ambitious types of shoots you now do?
MG: I went from working at newspapers to doing news work for People magazine. I had shot two news stories for the Boston Herald that People was also covering. They ended up licensing images from me for the magazine because I'd outshot their assigned photographers. Beth Filler, the Deputy photo editor at the time, said that if I ever left the paper she would make me a regular with People. So I did. I moved to LA and asked them for work.
MAP: What led you to your celebrity work?
MG: I was not quite 30, doing two or more assignments for People a week but not happy shooting solely news. I asked M.C. Marden, the magazine's director of photography at the time, to allow me to do some celebrity shoots. It was tough; she did not want to lose me as a news shooter, but I was unhappy doing straight news. I knew I ultimately would like to create images, not just capture them. I wanted to be more illustrative and conceptual. I learned storytelling as a photojournalist but now I wanted to tell a story in a more creative and lyrical way, a way I could control.

MAP:  You're known as a master of lighting. Your outdoor environmental portraits often have very bold skies and dramatically lit subjects. How did you develop this style and what is it about that look that appeals to you?
MG: My style comes from many different elements of my past. On one level, it comes from the photojournalistic style of burning and dodging to compensate for the poor reproduction of newspaper images. The "hand of God," they used to call it—this is where the subject pops out at you because the background and extraneous details darken. I use light to do the same thing. But on a deeper level it comes from my sense of darkness, from all the film noir and science fiction movies and books I watched and read as a kid. I love darkness. Most photographers do not balance the light with the dark; they do not use both to their advantage.
MAP: Speaking of very dramatic lighting and a film-noir look, your shot of Martin Scorsese with his back to the camera has a very cinematic look. You took a lot of risks with that composition. Can you talk about that shot and the idea behind it?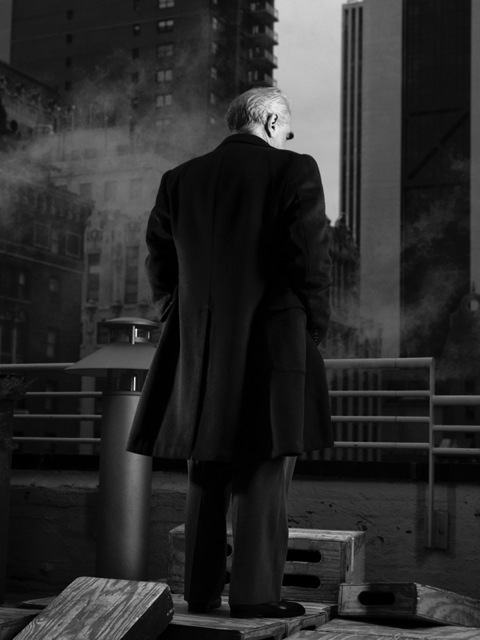 MG: The ideas start with the basics—New York City and Martin Scorsese, the quintessential New Yorker. I scouted the week before when I was in New York for another job and determined that the roof deck outside his office would work as a location to draw out the concept. Then my ideas involved the lighting—lighting him from the extreme side, using a little wind and fog to create a mood and bringing down the exposure to help create that feel. Lastly we brought wardrobe, even though we were told we should not. I needed that overcoat to finalize the idea.
At that point you visualize all the seeds and then just work the shot. I asked him to turn into the light away from me, and then I realized when I caught his eyebrow, you could still tell who he was, so that became the image.
MAP: Tell me how you conceived and created the shot of Mel Brooks apparently walking across his office ceiling.
MG: Many of the editorial portraits I have done in the past are either a seed of an idea from the photo editor where I am left with the entire execution, or I come up with the idea. In advertising you often have comps—composite ads that have already been test marketed and approved—and you have to shoot to them. But in editorial work there is a great deal of freedom to create your vision. That's why I still love editorial work so much. That particular image was a seed of an idea from the photo editor that I then had to execute. In film school I learned how they created this effect with Fred Astaire in the movie Royal Wedding, so we did the same thing—we built a room on its side.
MAP: The Steve Martin portrait with roses and red furniture is a very interesting and unusual portrait of him—it makes him look more like an author or a romantic lead. Who was that shot made for?
MG: That was a shot for Time magazine a few years ago. The idea was that Steve spent his life writing his memoir, so his life grew around him. Originally the concept was to use miniature furniture, but this turned out to be better. The concept initially began when we were told we had to shoot him outside at his home, in the garden. Many ideas start that way and then morph into something different. Here I built the garden in the studio and lit it to recreate outdoor overhead light. It was an inside cover and a spread in the magazine and won a Society of Publication Designers award.
MAP: Let's talk about your motion work. Today much of your work is directing motion projects. Do you consider yourself to be as much of a motion director as a still shooter?
MG: I think spending all these years directing talent for still photography enhanced my love for directing. Working on the new long-form spot for Panasonic and the Lumix cameras made me realize really how much I love to get a good performance out of the actors on set. They are just as integral to the storytelling as a prop or set is in a still. So, you have to be an actor's director and trust your director of photography to carry your vision through the work. All those discussions about the look of the shoot happen before you start shooting. Your DP has to understand what your work needs to look like so when you are directing talent you can then focus on the performance. It comes very naturally for me.
MAP: Was your transition from stills to motion something that evolved slowly or was it a more sudden choice?
MG: It has been a steady transition in the past few years. Over the years, more and more clients have been asking for a motion piece with their ad shoots. A few years ago I was asked to do a campaign for Blue Cross of Florida and the production company doing the broadcast did not want to do the internal video. That was my first real commercial project. After the shoot, the broadcast producer said: "You did an amazing job!" I looked at her and said: "Not bad for my first day directing, huh?" When I saw the look of panic in her face, I replied: "Just kidding." But that really is how my first commercial directing began. Now I regularly do major web spots, often assigned after being awarded the print campaign.
MAP: Is crew size significantly larger for motion shoots, and does this make it difficult to be as hands-on in terms of lighting and camera work with motion shoots as you are with stills?
MG: I run a very tight still shoot—I have regular crew members that I rely on, and our productions run like a well-oiled machine. Motion increases the crew to the point where we really need producers and assistant directors to keep everyone moving and working well. It really magnifies the situation many times over, and you have to be on top of it, you have to have control of your set.
MAP: Are there any particular frustrations with motion shoots that are unique to shooting video?
MG: Not really. With experience I now hire people I can really rely on. My shoots go smoothly. That said, there are many, many more variables to a motion shoot, and you have to make sure you have a grasp on everything.
MAP: Can you discuss the new Forever Young short-film project?
MG: I was asked by Panasonic to shoot a long-form spot using their GH4, X1000 and A500 cameras. I loved the idea because the GH4 is my go-to camera for motion. The small size of the camera body makes it work in every situation—on a gimbal, on a drone, handheld, even with large Leica cinema lenses, all while producing 4K video. (Go here to view the project.)
MAP: How did that project come about, and how was it conceived?
MG: The client wanted something that would show how well all the cameras perform in different situations. I thought about something that had a lot of aerials and would utilize the attributes of the cameras, but which still had a story line, and that's how I came up with this "car" spot idea called Forever Young. I think so many photographers-turned-DP/directors do not direct actors in their reels and in their work. They show great camera work but don't really direct in a traditional sense. I do not operate the camera; I am the director and I work to ensure that the performances are great and the story is told well. I think that's a director's job.
MAP: What equipment did you use for the project, and why was this particular gear used? What advantage did it offer?
MG: Most of the piece was shot with the GH4. The camera's size made it the workhorse. We used it for handheld shots and for shots using a DJI Ronin gimbal. We were able to go everywhere with it and maneuver easily. The person who wrote the spot—a friend of mine who's a creative director at a large ad agency working on car campaigns—looked at the footage and loved the quality. He was surprised to learn that a DSLR was used to shoot the spot.
MAP: How important is 4K video capability to your work?
MG: I will never work in HD again. There is no reason to—4K gives you the ability to stabilize a shot after the fact, crop into a shot after the fact, reframe—whatever you need to do—and then output to HD. It gives you a crazy amount of flexibility that I never want to be without. I recently did a campaign with major celebrity talent for a major brand. I had to shoot four videos and three print ads in two hours, midday between two broadcast spots. That was the first time I chose 4K. With that tight time crunch it gave me the ability to make two shots from each camera angle by being able to crop into the 4K video if we needed to.
MAP: In addition to the advantages of 4K in video, are there particular qualities of those cameras that excite you as a filmmaker and as a still photographer?
MG: Yes, I am creating a lot of hybrid images, or "living photography" images, that are still but have movement within them. The 4K files enable me to extract a great still, retouch it, and then embed the video file on top of the retouched image.
MAP: In your still shooting, you've said that every day you intentionally seek to break traditional rules and restraints. Has this always been true of your work, and is it equally true in your motion work?
MG: This is something you strive for, and yes, it is always something I do to push myself and my clients. I think the trick is to get the motion work to have the look and feel of the photography I am known for. I hope I succeed at this.
MAP: You've done traditional short-length commercial shoots. Is it more complicated and demanding to tell as story in, say, 30 seconds, than it is with a longer piece?
MG: The Forever Young piece will probably have a shortened version on my website. I think ad agencies like to know you can tell a story in 60 seconds at least. But for Panasonic, I really felt that we needed to see all those great drone shots and the beauty of the camera work, so Forever Young will live in the Lumix Lounge as a 3 minute video.
MAP: As you look forward, do you hope to alternate between motion and still assignments in your schedule, or do you see motion as taking over your daily work?
MG: I think a blend of the two is the future. I hope to do more motion pieces that either incorporate stills creatively in the footage or more stills that creatively incorporate motion into the frame. I think that is where the future is.
MAP: What projects are on the horizon for you?
MG: I was asked to do a travel TV show where I am an Anthony Bourdain-like character, except the perspective is that of a photographer, not a chef. Cross your fingers!

0 Comments
---