Q: Originally from Oklahoma, what are some of your favorite things about living and working in Chicago?
A: I moved to Chicago last November after living in New York City for eight years. I'm still getting to know Chicago, but I love the more laid-back feel to this city, and the way that it seems like there is still much to discover hidden away in the different neighborhoods.
Q: How and when did you first become interested in art and illustration?
A: I've always been drawn to art, but I never thought it was something I could do professionally (mostly because I didn't have much of a talent for drawing), so I never studied it formally.

It was after moving to New York after college and getting a job at an illustration agency (CWC International) that I began to understand I could have a role in the art world, and there is so much more to illustration than drawing well.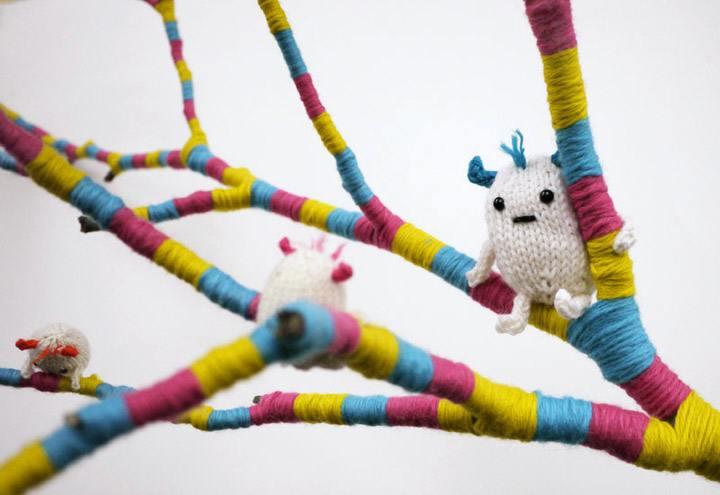 Detail from "The Wooly Woods," 2013 solo show at smallspace gallery, Berlin.Photograph by Anna Hrachovec

Q: Do you keep a sketchbook? What is the balance between the art you create on paper versus In the computer?
A: I have a sketchbook that doubles as a notebook in which to jot down phone numbers and shopping lists. I only use sketching to develop ideas, never as part of the finished work, so that frees me up to make sloppy, not-so pretty sketches that lead to unexpected directions. I do alot of photography in my work, and the computer is a big part of adjusting the images to look better than I can get them in camera.
Q: What do you like best about your workspace?
A: I like that it's in my home and it's as messy as I want it to be (moderately messy), which makes it a comfortable and fun place to be.
Q: Do you think it needs improvement, if so, what would you change?
A: I would love to knock a window into one wall for more light.
Q: What is the most important item in your studio?
A: My yarn swift and winder. I used to wind yarn by hand, but no more!
Q: What is your favorite part of the creative process?
A: I love the part that comes between the hardcore production and the finishing, when I get to play with my characters and let them tell me what they want to do—which sometimes goes against what I had planned.
Q: What was the most unusual assignment you've taken? What made it a success or a failure?
A: In 2008 another artist commissioned me to make dolls that were supposed to resemble maimed Iraqi children for an art show about the Iraq war. We were both pleased with how they turned out, and I appreciated the challenge to my own ideas about what makes a successful piece. The project was so much more graphic than anything I would normally do, so I haven't shared it with many people.
Q: What was your favorite book as a child?
A: As a young child I loved anything by Dr. Seuss; as an older child I loved The Little Prince by Antoine de Saint-Exupéry.
Q: What is the best book you've recently read?
A: I really enjoyed The Goldfinch by Donna Tartt.


Scene from "Gnomes vs Snowmen," 2011 solo show at gallery hanahou, NYC. Photograph by Jenna Leigh Teti
Q: When did you first begin to create characters by knitting them, and when did you first begin to do animations?
A: I made my first knitted toys in 2006—they were modeled after the blob-like logo for gallery hanahou, where I worked at the time. (It no longer has a physical presence, but used to be in Soho.) I started animating my characters at the end of 2011, when I figured out that stop-motion animation could be much simpler than I thought, especially when working with miniature objects.
Q: What was your first assignment to create a knitted character and how did it turn out?
A: Actually, the project with Nickelodeon was my first actual commercial assignment, and I guess it turned out pretty well! I was terrified of messing it up, but it was one of the best experiences of my life. I learned so much from the Nick team, who were all very talented and also kind.
Q: What are some of your favorite places/books/blogs/websites for inspiration?
A: I've been spending a lot of time at the Art Institute of Chicago since I moved here. I like to look at absolutely everything and take it all in.
Some of the websites I visit are: pictoplasma.com (especially their Facebook postings) / 50watts.com / beautifuldecay.com / thefoxisblack.com
Q: What is/would be your karaoke song—and why?
A: Someday I would like to sing "Glamazon" by RuPaul. It's so not me, but I'm a big fan, and I love Ru's concept of all of us being in drag.
Q: Where do you teach—and what do you like best about teaching?
A: I teach about once a month at local yarn stores and knitting events. I love seeing the surprise and delight that knitters get when they first put eyes on their creation and it's looking back at them, and it's also amazing to see how the same project for a character will turn out so drastically differently in different people's hands.
Q: Where did your idea for Huge & Huggable Mochimochi originate? What was the most difficult part about getting from idea to finished art?
A: In recent years I've become known for my miniature knitted characters, so I wanted to go in the opposite direction and design some very large creatures for people to knit. The most difficult part was just getting everything knitted—I make most of my own samples, and it turns out that really big toys take much longer to design and make than really small ones!
Q: What is your hobby?
A: I turned my knitting hobby into my job, but I also love reading, listening to podcasts (while knitting), and playing video games.
Q: What would be your last supper?
A: A really good Thai curry followed by a really good Indian curry followed by several varieties of mochi.
Greetings from Mochimochi, 2010 solo show at gallery hanahou, NYC. Photograph by David Rasura
Anna Hrachovec is a Chicago-based designer and artist who combines her passions for knitting and Japanese character design to create toys, installations, and animations that all ages can get excited about. What started out as Anna's hobby in 2007 has, over the years, grown into a huge imaginary realm called Mochimochi Land, where a cast of characters play and fight just like humans do, only cuter. She has written four books of patterns for knitted toys, the newest of which is Huge & Huggable Mochimochi.
Upcoming events:
August 10th: Book signing at Sifu Design Studio, Chicago
September 19th: Book signing at Natural Stitches, Pittsburgh
October 25th and 26th : Artwork on display at Vogue Knitting Live, Palmer House Hilton, Chicago
---